Motives® Customized Mineral Liquid: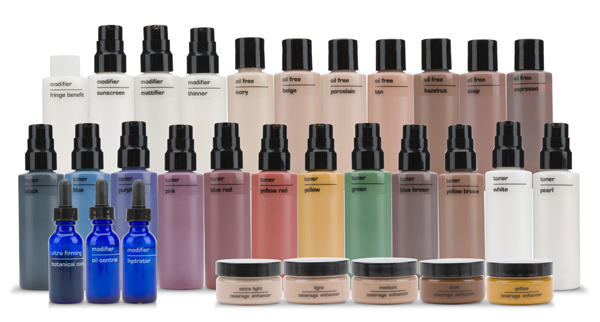 Mineral based infused with soothing, softening botanicals: Calendula, German Chamomile, Linden, Roman Chamomile, Cornflower and St. John's Wort.
Oil Free, suitable for all skin type and color, especially sensitive skin, originally made for burned victims.
Talc-free, fragrance-free.
Non-comedogenic (WILL NOT BLOCK YOUR PORES).
Includes modifiers and enhancers such as hydration, oil control and firming.
All ingredients has been proven in clinical studies to promote healthy skin.
Motives® Customized Mineral Powders: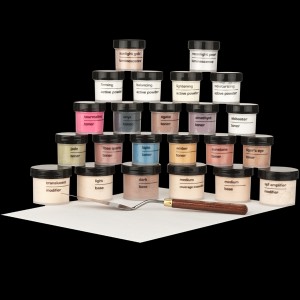 Made exclusively from micronized all natural earthy minerals, give exceptional silky textured minerals give long lasting coverage with a lightweight natural feel.
Form a protective barrier while allowing the skin to breathe, thereby promoting healthy skin.
Talc-free does not have the "powdery" or "ashy" look caused by talc-based products. Talc is a heavy powder that lies in lines making the skin look older and dry.
Contain Micronized Titanium Dioxide and Zinc Oxide which are two minerals that provide protection without irritating chemical ingredients.
Motives Customized Mineral Powders are:
Oil-free, fragrance-free, dye-free.
Bismuth -free (white ingredient used to add luster; can be a skin irritant and white color adds chalky, pink tone).
Non-comedogenic (WILL NOT BLOCK YOUR PORES).
Recommended for skin that is sensitive and/or in a sensitive state.
FOR ALL SKIN TYPE AND SKIN COLOR.
The Costs
Coco Beauty Bar guarantees to give you quality products with the best prices, visit our Makeup and Hair page to learn more! or BOOK YOUR APPOINTMENT TODAY!